One afternoon in April 2019, a group of new hires was sitting in a small office in Metro Manila, Philippines. They were hearing about the terms of their employment and, at the end of the briefing, one worker raised his hand to ask if they would also receive medical benefits for their families. The woman in charge shook her head but added an encouraging note: "'Di ba mayroon na tayong Universal Health Bill? Sabi ni Duterte, lahat daw automatic na na PhilHealth."
("Isn't it that we now have the Universal Health Bill? Duterte says that everyone is now automatically enrolled to PhilHealth.")
Hearing of this anecdote, Beverly Ho remarked, "Naku, sana matupad talaga ang promise!" ("Oh, I really hope the promise will be fulfilled!")
Ho, the chief of the Health Policy Development and Planning Bureau of the Department of Health (DOH), was instrumental in the drafting of the Universal Health Care (UHC) Law, or Republic Act No. 11223. Signed by President Rodrigo Duterte on February 20, 2019, the law ultimately seeks to provide health care to all Filipinos. As of this writing, the Implementing Rules and Regulations are still being finalized but the law has gotten many people excited about its implications.
While news coverage acknowledged the authors of the law in the Upper and Lower Houses, it didn't mention all the others who worked tirelessly behind the scenes to help ensure that the law was something that would be beneficial to the Filipino people. The DOH came on board in 2017 when the bill was in its early stages in the Lower House; Ho was sent as the DOH representative at a hearing, which eventually led to DOH involvement in developing the bill.
"In one of the proposals, I actually found…some things na sobrang no-no, kaya parang I felt kailangan ko aralin yung stand namin," recalls Ho.
("In one of the proposals, I actually found…some things that were a definite no-no, so I felt that I really had to study our stand.")
She elaborates, "Top things come to mind [were the] creation of a fund on top of PhilHealth, which will further fragment [the system], [and the] creation of a super body multi-agency board to oversee UHC, which will be another layer of bureaucracy, with unclear basis for decisions."
Ho thus felt that she had to "make a very, very strong position paper for the DOH kasi what if pumasa 'to [in its current form]? It would be [more of a] step back than step forward. Actually, mas yun yung motivation ko more than anything."
("I had to make a very, very strong position paper for the DOH because what if this passes [in its current form]? It would be more of a step back than a step forward. Actually, that was my motivation more than anything.")
Armed with her knowledge of and years of experience in public health and public policy, Ho got to work. But she stresses that she didn't do it alone, always insisting that it was a group effort. Throughout the process, she remained motivated by the people around her, who all similarly had the mission and desire to make positive, lasting changes.
The Road Less Traveled
This is Ho's approach to work in general, whether it's helping lawmakers finetune the Universal Health Care Law, pushing for regulations governing Health Impact Assessment in the Philippines, or meeting her other responsibilities at the DOH: Credit isn't important. What matters is that the work gets done and that it hopefully contributes to the greater good.
Her interest in public health was nurtured during her days studying medicine at the University of the Philippines (UP). Initially planning to become a doctor—like her mother, who is still a practicing obstetrician-gynecologist at 70—Ho found her interest gradually shifting as she met more and more people who had a medical background but didn't necessarily work as doctors. "Sa UP naman to begin with, our teachers are mostly activists, apart from being the best clinicians sa PGH (Philippine General Hospital).
Some have done stints in different NGOs, government, et cetera," she says. "Our curriculum was also made in such a way that they call it COME, Community-Oriented Medical Education. Basically, they're saying we don't need to be directly in the barrios, in the communities for us to practice community oriented-ness in health care."
She cites one seven-day seminar in particular that really made an impression on her. "In one week, they flooded you with people who were not your typical doctors, who were doing all sorts of things… And then after that, I was class president of my batch in UP…so I also got to see the behind the scenes ng mga teachers namin who were also administrators sa PGH. So parang nakita mo why are we, for example, asking our patients to line up at four in the morning tapos ten o'clock it's just us who sees them, not even real doctors? And then why is there so much inefficiency in that hospital whereas all our administrators are the best of the best in their fields?"
Her exposure to the day-to-day realities in a public hospital led her to question whether becoming a clinician, regarded as a noble profession, was really the best way for her to help. Her peers, who were once as wide-eyed and idealistic as she was, started pursuing private practice in order to earn a decent living to support their growing families. Ho thought, "Maybe hindi mauubusan ng clinicians but maybe people who want to help need to be given the opportunity to help out. (Maybe we won't run out of clinicians but maybe people who want to help need to be given the opportunity to help.) And if my classmates, who are very well-intentioned, happen to not have that opportunity, the world or the country cannot blame them for choosing to just do private practice at the end of the day."
There was some pressure from relatives to follow in her mom's footsteps and take over the OB-GYN practice, but after much reflection, Ho spoke with her parents, saying she wanted to explore other things for a year before going back to the clinics. One month before she was supposed to apply for residency, she got a call about a job at PhilHealth. Ho prayed over it, offered a mass for it, and even went to a Chinese fortune teller, who told her that whatever it was she was asking about would open doors for her. "I got my divine bases covered so now [I had to talk to] my parents," she says with a laugh.
Ho outlined her plan in a five-page letter to her parents, who didn't question her decision to take the PhilHealth job. "My time in PhilHealth [was] very short but very impactful," says Ho. "Nakita ng parents ko na mukhang serious [ako] dito. They never asked me kung babalik ako or hinde [to the clinics]. Since then, tuloy-tuloy na, super supportive na lang nila."
("My parents saw that it seemed like I was serious about this. They never asked me if I was going to go back [to the clinics] or not. Since then, they have been continuously super supportive.)"
Making an Impact
Since then, Ho has gone on to attain a Masters degree in Public Health, Healthcare Policy, and Management from the Harvard T.H. Chan School of Public Health, and has worked as a researcher and consultant for various organizations, including the Asian Development Bank. One of her first few projects as a junior consultant was for a UHC stock-taking, where she was tasked to attend to the needs of experts coming in from different countries. She soaked up all she could from the experts—"I was just like a sponge!"—and was able to foster relationships with them, which came in handy when she was working on the UHC Bill. "Throughout the process of the bill, randomly ako nag-email sa kanila, na parang, 'Tama ba 'tong ginagawa namin?' Kasi wala ka namang guidance, 'di ba."
("Throughout the process of the bill, I would randomly email them, like, 'Are we on the right track?' Because you don't really have any guidance.")
Even with the passing of the landmark law, there is still a long way to go, and Ho underscores the importance of collaborating with the right people to reach the goal. "We can have the best ideas but if you don't have the best people—good head, good heart, good hand, as the Thais would say—it will be very difficult."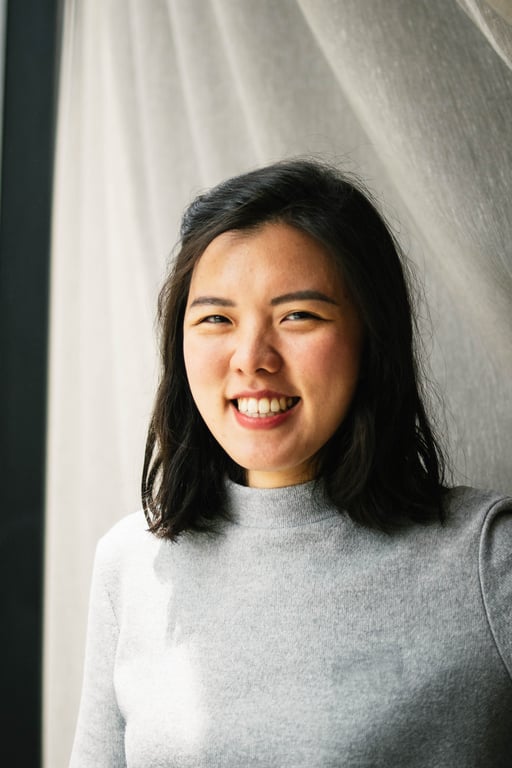 This is also the reason why she hopes to attract more people to the field of public health. "I really want that public health and public policy will get a share of the best graduates, the best talents, not just of health professions but of others as well," she says. Her vision is for the DOH and PhilHealth to attract the top talents because in the end, policies are only as good as the people who make and implement them.
"How other countries have sustained reforms, have translated good ideas to actual working services for the people is when yung capacity ng civil service is just there. [In the] UK and Australia, sobrang alaga yung civil service nila. Kung sobrang alaga, it translates—yung quality ng decision, yung know-how. May isa nga kaming local consultant na nagsabi, you want to invest in your ability to think quickly and act quickly and walang other investments except tao."
("[In the] UK and Australia, they really take care of their civil service workers. If they are nurtured, it translates—the quality of decisions, the know-how. We even had a local consultant who said that you want to invest in your ability to think quickly and act quickly and there are no other investments except people.")
This desire to get the best people working in public health is probably a big reason why Ho has honed her intuition for talent over the years. She shares, "When I spot talent and good heart, alam ko. Ipaglalaban ko yung taong yon hanggang dulo. I will look for opportunities for that person kasi sobrang I think very clear sa akin na I'm only able to sell the vision and parang put the scaffold to whatever we want for public health but kailangan siya i-implement ng critical mass. So, parang mission ko sa buhay, feeling ko, is hanapin yung mga tao para magsama-sama sila."
("When I spot talent and good heart, I really know. I would fight for this person until the end. I will look for opportunities for that person because I think it's very clear to me that I'm only able to sell the vision and put the scaffold to whatever we want for public health but it has to be implemented by critical mass. So, I feel like my mission in life is to look for the people who will work together.")
While Ho finds the work itself stimulating and doesn't really seek any reward or recognition, she grants that it does come with perks. "We have to admit that being where I am in government has certainly opened up so [many] doors for me in terms of meeting people I never thought I'd be meeting and having opportunities I thought I'd never had," she says. "So, parang umiikot lang siya. Parang the little good will na ini-invest ko to be in public service, parang God makes a way to remind me that compensates for [it]."
("So, it's like what goes around comes around. Like the little good will that I invest in public service, it's like God makes a way to remind me that compensates for [it]."
She cited a short-term program at Yale University as one example; the Equity Initiative (EI) fellowship was another: A Department of Health undersecretary simply asked Ho to represent her in a meeting with Jeremy Lim, an inaugural fellow of EI. "After that meeting, the rest is history!" says Ho.
The Next Generation
When Ho started out, there were very few of them who chose to pursue a career in public policy and public health. But nowadays, she says more and more of the younger generation are getting in touch with her, asking her how to get started in the field. The DOH also previously ran a policy research program wherein they got graduates of top-tier schools to work in the department for two years. "[DOH] Secretary [Francisco Duque III] also agreed na maybe this is the way to go to make things sustainable, so within the year, we're launching a UHC Young Professionals Program," she says. Thus, it seems quite possible that Ho will realize her vision of attracting top graduates sooner rather than later.
She does emphasize that along with talent, those who go into public policy and public health should be able to set aside their ego. "A lot of us went into medicine because there's this part of you [that] wants to help, 'di ba. But this part of you [that] wants to help is also encouraged by constant appreciation, thank you's," she remarks. "Pero sa public health and public policy, wala namang nagpapasalamat sa 'yo. As long as you're ready na walang credit, pwede ka. Kasi hindi mo naman pwedeng sabihing, 'Ako yung nagsulat ng batas,' kasi it's a confluence of a lot of things, di ba… If your personality does not allow for that, mahihirapan ka. Pero kung game ka, anything else pwede namang aralin."
("But in public health and public policy, there is no one to thank you. As long as you're ready not to take credit, you're good to go. Because you can't really say, 'I wrote this law,' because it's a confluence of a lot of things… If your personality does not allow for that, you'll have a hard time. But if you're game, anything else can be learned.")
More than having these qualities herself, backed by her education, innate intelligence, and experience, perhaps what makes Ho good at what she does is this: She truly cares. Her eyes light up when she talks about the work they're doing and, despite the challenges and the occasional rumor-mongering in the workplace, she remains excited by what she does. To Beverly Ho, working in public policy and public health is not just a job but a real opportunity to make a difference in people's lives.
*Prior to the COVID19 pandemic, Beverly Ho took on the position of Director, Office of Health Promotion and Communication Service with the Department of Health. During the Philippine community quarantine, Beverly assisted in the government's inter-agency response to the pandemic. Her team was instrumental in the production of daily COVID19 infographic briefs, making relevant data widely accessible. She remains active in the public health space, and worked with Atlantic Fellows in the Philippines and broader public health networks to help address the issue of rising suicides during the pandemic.